Now I Know
When seventeen-year-old Liza starts exploring her bisexuality at a high school party, her best friend Emily starts to question how well she really knows her friend.
Written, Directed & Edited by Julia Keelan Angley
"Now I Know" is a short coming-of-age film about two young women navigating their friendship and each grappling with their sexuality. With the film, I wanted to explore how we unintentionally trap each other with our assumptions and all the things that go unsaid in a close friendship.
This film was produced during my time as a student at UCLA, and is a very personal story to me. Growing up, as I began to question my own sexuality, I found it difficult to express. As a bisexual woman, I wanted to create a film that showed young women questioning and struggling, an experience that many LGBTQ people experience even as the world becomes more accepting. At the end of the day, we have to accept ourselves, and that can sometimes be the hardest step in coming out.
I am excited for the opportunity to share this small story about two women finding their identities.
Festival Information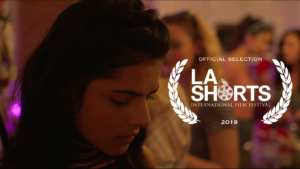 Now I Know is an official selection of LA Shorts Fest, July 17-25 in Los Angeles! More info at www.lashortsfest.com